Explore the History of Hollywood, FL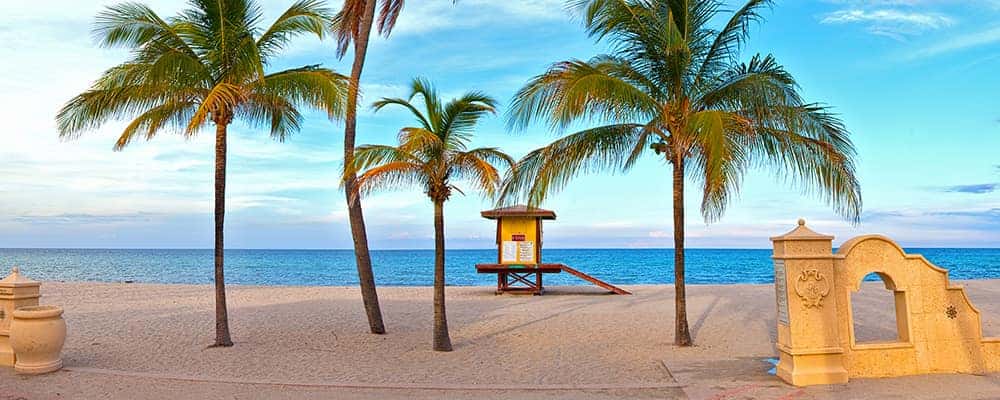 Take a tour of Hollywood, Florida's rich history with Toyota of North Miami. We're happy to show off all this nearby town has to offer, from its origins to attractions you can enjoy today.
Early Beginnings
In 1920, Joseph W. Young, Jr had a dream of founding a new city known as "Hollywood by the Sea." The city was built around three circles linked by a broad boulevard. Before its incorporation, he spent millions building the following facilities and attractions:
Olympic Salt-Water Pool
Resort Hotels
Railway Station
Country Club
This reputation as a resort town led to Hollywood, FL being known as the "Atlantic City of the South." Sadly, the Great Hurricane of 1926 (followed by the Great Depression) caused setbacks in Young's vision. Shortly after his passing in 1934, the city commissioner declared his August 4th, his birthday, a public holiday known as "Founders Day." This local tradition is still celebrated to this day!
Later Developments
Over the years, Hollywood, FL became known for its sparkling beaches and exciting attractions, as well as rich local traditions which continue to shape the area.
The Diplomat Hotel opened in 1958 on Hollywood Beach. It became a destination for entertainers, celebrities, and politicians for years to come.
The nearby Seminole Indian Reservation hosted a "Pageant of the Unconquered Seminoles" gathering in 1971 which drew Native Americans from across the country.
The Anne Kolb Nature Center has cemented Hollywood's reputation as the "Diamond of the Gold Coast." It covers over 1,500 acres of mangrove preserves, a fish nursery ground, and a bird rookery.
Experience Hollywood, Florida's History
The Hollywood Historical Society offers self-guided tours of the beach and downtown areas. Take a look at their maps which lead you to historic landmark plaques throughout Hollywood. Highlights include the Cavanaugh Apartments, the site of the old Florida Theatre, and the Joseph W. Young Jr. Circle.
Turn to Toyota of North Miami for Local Info
Want to learn more about the area around North Miami and Sunny Isles Beach? Explore the best haunted houses in South Florida, our top 5 things to do on Las Olas Blvd. in Ft. Lauderdale, the best restaurants in Sunny Isles Beach, FL, or the top Aventura restaurants. We can even help you find the best restaurants in North Miami Beach!
Learn More at Toyota of North Miami
Toyota has established a reputation as one of the most popular cars in America—and rightly so. Millions of U.S. drivers consider a Toyota car the gold standard for quality, affordability, and reliability. If you're in the market for a new car, here are some reasons to consider this beloved brand and why buy a new…

When choosing with new car to buy in the North Miami area, drivers trust the Toyota car model lineup for the top 3 car choices! Why buy at our North Miami Toyota dealership? We offer a large selection new Toyota cars for sale near Hollywood:  Toyota Camry, Toyota Corolla or the Toyota Avalon. These are among…

Drivers everywhere are asking, "How much can a Toyota 4Runner tow?" At 5,000 pounds, the 2020 Toyota 4Runner towing capacity makes it a true powerhouse for families who expect a little extra from their rugged new SUV around the North Miami Beach and North Miami areas. While the capable engine brings unrivaled strength to weekend adventures and sporty…